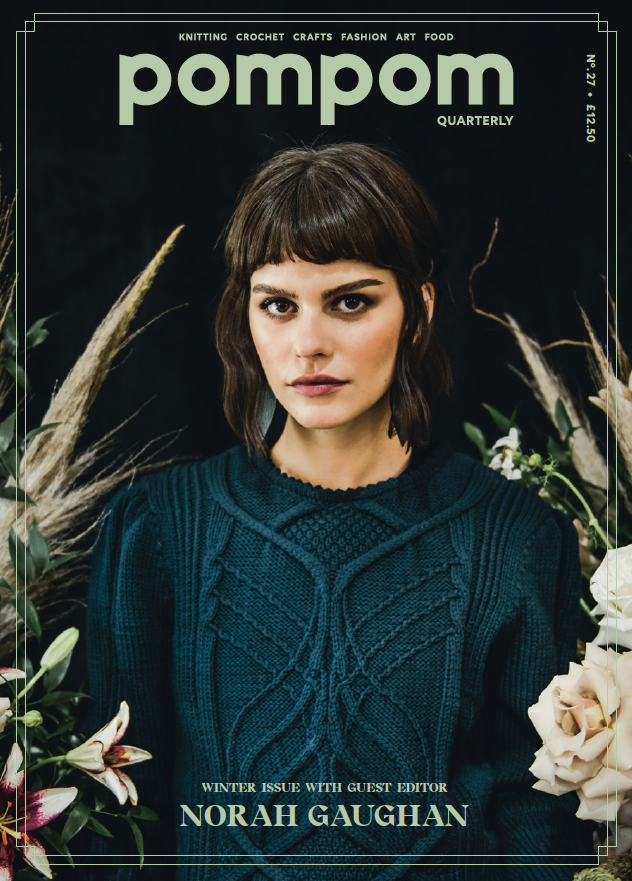 I was beyond excited when I received an e-mail from Meghan Fernandes, co-founder of Pom Pom Quarterly, commissioning me to make a submission for the Winter 2018 issue with guest editor Norah Gaughan. Norah is the famous cable expert, who I had the pleasure of meeting at Strik Bornholm in Denmark back in 2014.  The timing was also right for me to submit to Pom Pom Quarterly, founded by two of my former Loop colleagues: Meghan Fernandes and Lydia Gluck. I am so honoured to be part of this impressive issue with my Ataraxia together with eight other acknowledged designers: Caitlin Hunter, Joji Locatelli, Véronik Avery, Andrea Rangel, Cirilia Rose, Xandy Peters, Boadicea Binnerts and Honor Adams. On the cover is Norah's amazing Nightingale, knitted in Quince and Co. Lark using 4.5 mm/US 7 and 3.75 mm/US 5 needles.
The impressive submission brief said: "Our muse is a modern woman warrior with a feminine edge. Mix sweet with strong. The Victorian era is the seed of inspiration, but anachronism is welcome". So I made a jacket for the modern warrior women: Shield maiden Lagertha wears a strong, fitted jacket with peplum, adorned with cables, honeycomb pattern and moss stitch. Her bravery has been marked by the I-cord top shoulder adornment and close crew neck. Her stature is emphasised with a tuck joining the peplum to the body, a twisted stitch encompassing the honeycomb pattern and two staghorn cables following the spine at the back.
Pom Pom writes: "When we asked Norah Gaughan to guest edit this issue, nothing could have prepared us for the beauty and drama of the results. Combining her vision of though Victoriana with our trademark colourful and playful approach, we have worked to flip the Victorian visual trope of a delicate woman surrounded by flowers into one of strength and resilience…" The dramatic flower arrangements are by Bricolage Curated Floral and the photos by Laura Morsman.
The sample is knitted in the stunning The Copper Corgi Fiber Studio, Jones Street Worsted – available at Etsy – made of 60% Merino wool, 30% Alpaca, 10% silk with 192 meters/210 yards per 113 gram skein in the shade Goldenrod using 4 mm/US 6 and 3.5 mm/US 4 needles. The model  has a 86 cm/34″ bust, stands 165 cm/5.5″ tall and is wearing a size 2 with 97 cm/38.25″ bust. The cardigan is available in 5 sizes with a finished bust measurement of 91 to 132.5 cm/35.75 to 52.25″.
Ataraxia is knitted flat, in pieces from bottom up, and seamed. The asymmetric lower body has extra width in each side that will be bound off before the tuck is made. Waist shaping is worked at the sides and the shoulders are shaped using short-rows. The collar is picked up and completed using an i-cord cast-off. The dramatic photo above is also used to list the weapons – the issue 27 yarns.
Norah writes in her guest editor note: "Linda Marveng added a peplum detail to her lushly cabled cardigan, Ataraxia. While the introduction to the pattern reads: Descended from a grand but penniless family and compelled to marry an absolute brute, Caroline Norton's heart-rending experiences of spousal abuse and divorce led her to drive parliamentary reforms that established basic legal rights for women. Caroline spoke frankly and widely about subjects normally discussed only in whispers. The inroads she represented the first signs of a sea-change around the legal position of women."
"Ataraxia is named after one of Caroline's poems and we hope it gives you a perfect sense of calm, sheltering you from whatever storms you bravely weather. The long jacket's fitted shape is achieved through a careful arrangement of vertical texture panels and i-cord highlights. Finished with a tucked, asymmetrical peplum, Ataraxia is full of clever ideas. Linda designed this with a mythical shield-maiden in mind, and Caroline Norton reminds us of the everyday heroines battling among us."
The gorgeous sample photographed is not the one I knitted in SweetGeorgia Yarns Mohair Silk DK in Pumpkin, as you will see on Ravelry (and soon here on my blog) when you see the photos Michael took of me wearing it. The wonderful orange colour did not fit in with the other designs and a second sample had to be knitted up quickly in time for the photoshoot. Do not miss this issue of Pom Pom Quarterly.
Above is the impressive back cover of the magazine. The Ravelry previews of the magazine is up, and pre-order copies are due to be landing on doorsteps from 12th November. Both a print plus a digital issue will become available soon, for more details visit pompommag.com.