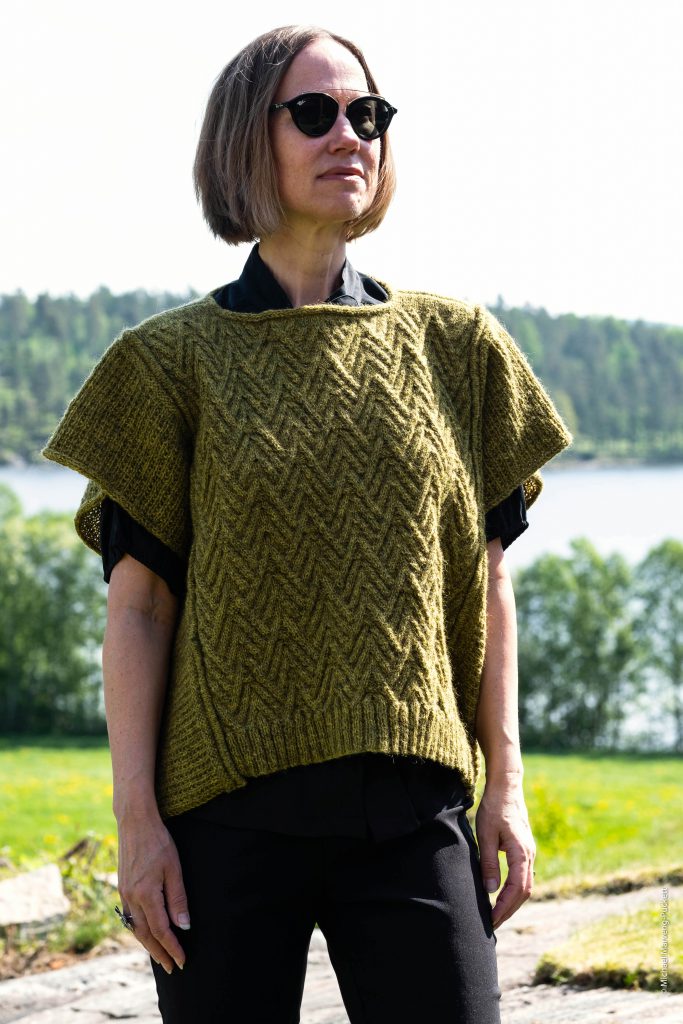 Hillesvåg Ullvarefabrikk commissioned 4 new designs and this was the first one I completed. I had help from British knitter Jean Molloy, who also knitted a sample for my Norwegian knitting book several years ago, to knit the center parts, while I knitted the side panels. We are having very warm summer weather at the moment, so it was hot and also difficult to avoid the strong sunshine, photographing this vest. Pine cables play on the center of this oversized vest, named Var, Norse for beloved. The side panels – giving the vest a dropped shoulder appearance – are knitted sideways in broken rib and is divided from the cable pattern with a tuck as well as a reverse stocking stitch band. Var ends in an I-cord bind off around the shallow neck. The vest is knitted in the luscious pelt wool yarn Tinde from Hillesvåg Ullvarefabrikk.
I am wearing the smallest size: XS/S but I have graded it into 2 more sizes: M/L and XL/2XL, with a bust measurement (including side panels) of 156 to 188 cm/61.5 to 74″. The vest is knitted in size 3 mm/US 2.5 for the rib and the tuck, while the main parts are knitted using 3.5 mm/US 4 and a 21 stitches and 30 rows in stocking stitch to 10 cm/4″ square.
The bottom two photos are taken in the shadow of our front terrace to show off the colour and texture of the melange Tinde pelsull/pelt wool yarn. The vest is knitted in two parts, then you pick up stitches along the side. Size M/L has a wider side panel but the same center panel as size XS/S. Size XL/2XL has a wider center panel with one extra cable repeat.  The English pattern will be test knitted in my Ravelry group in September, before its release.  Var will be photographed on Tuesday at Villa Malla together with the other new designs, and I am working on finishing off the last two.
SaveSave
SaveSave
SaveSave
SaveSave
SaveSave