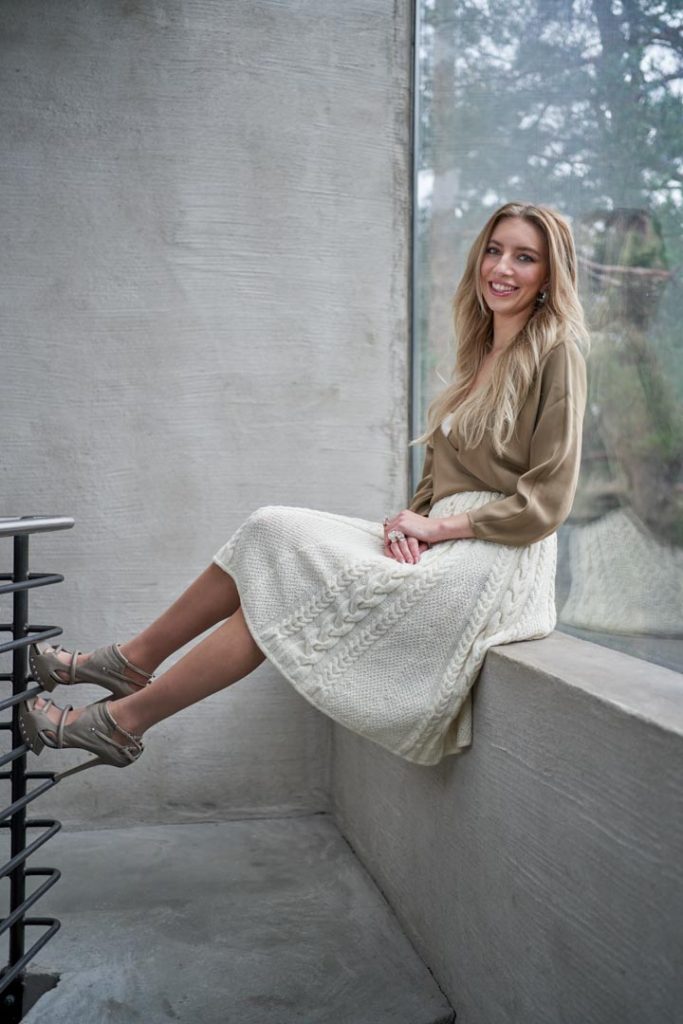 I have been waiting to show you the first set of photos we took at Mortensrud Church in Oslo, back in November 2020. The Cable Skirt is not a new design, but one that I made for my Norwegian knitting book "To rett, en vrang. Designstrikk" published by Cappelen Damm back in 2012. This time I made sure that we photographed it worn as a poncho in addition to as a skirt. I decided to style the skirt with a camel silk blouse and then with the matching trouser. Model Olivia Lindtein looked stunning in both the skirt and the poncho! Her hair & make-up is by Sissel Fylling, the jewellery is borrowed from Kaja Gjedebo Design and brilliant photographer Eivind Røhne captured it all!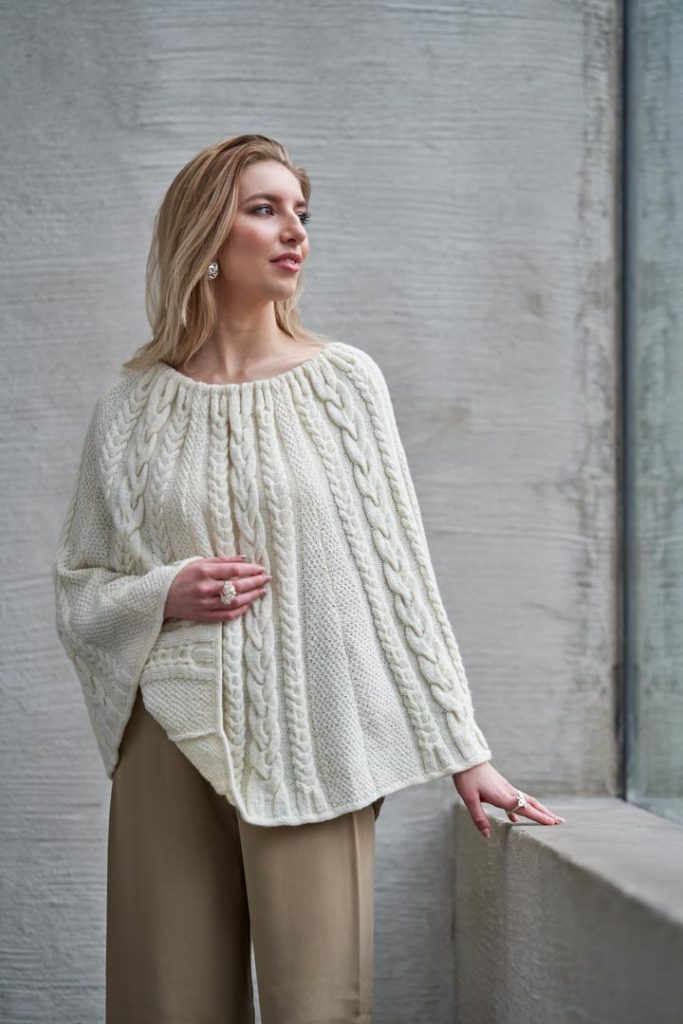 The pattern has been revised and I have added two more sizes to it. My technical editor Barbara Khouri has made a schematic for it and edited the pattern for me. The Cable Skirt pattern will be released in my Ravelry Store tomorrow in both English and Norwegian.
A cabled skirt inspired by the late Alexander McQueen with a center braid cable framed by a tulip cable on each of the six panels. In the sides there are double seed stitches to allow the cables to add an extra dimension to the stitch pattern. Instead of elastic, a comfortable boot laces is inserted so that you can adjust the length by wearing it on your hips instead of waist or as a poncho, if you prefer. The Cable Skirt or Poncho is knitted in the lovely Berroco Ultra Alpaca Fine with a small percentage of nylon so it will keep its shape.
The skirt is knitted using a 3 mm/US 2.5 needle and with a 28 stitch and 36 rows gauge in stockinette stitch measuring 10 cm/4″ square. The finished waist measurement for the smallest size is 126 cm/49.5″ and it will fit sizes XS to M, while the second size will fit sizes L to 2XL and the third size will fit sizes 3XL to 5XL. Olivia is wearing the smallest size with 62 cm/24.5″ positive ease.
The skirt is knitted in six panels with shaping for the waist and then sewn together. Boot laces is inserted into the waistband before it is folded over and seamed to the wrong side. Each panel has a centred Braid cable with a Tulip cable on each side, divided by reverse stocking stitch and edged by double seed stitch. If you only want to use the skirt as a poncho, make the smallest size.
I look forward to showing you more of the photos from the photoshoot! I am so thrilled with these new photos of the Cable Skirt. Thank you to my wonderful team!