It was a dark and grey morning when we set off from Ørje to Mortensrud Church in Oslo on Friday 13th of November for our photoshoot. I had planned and booked Vardåsen Church in Asker, but due to stricter Corona restrictions they cancelled all arrangements including our photoshoot. Mortensrud Church, on the other hand, still have a few small events taking place and allowed us to have a photoshoot there. Model Olivia Lindtein was at the church, when we arrived. She had planned extra time this time as she was late last year, but so were we due to traffic chaos as a result of the extremely heavy snow. Photographer Eivind Røhne arrived next before Make-up and Hair Stylist Sissel Fylling turned up. Straight to work and it did not take long until Sissel asked Olivia if she could cut off about 7 cm/2.75″ of her hair at the back and shorten it around her face. Thankfully, Olivia agreed.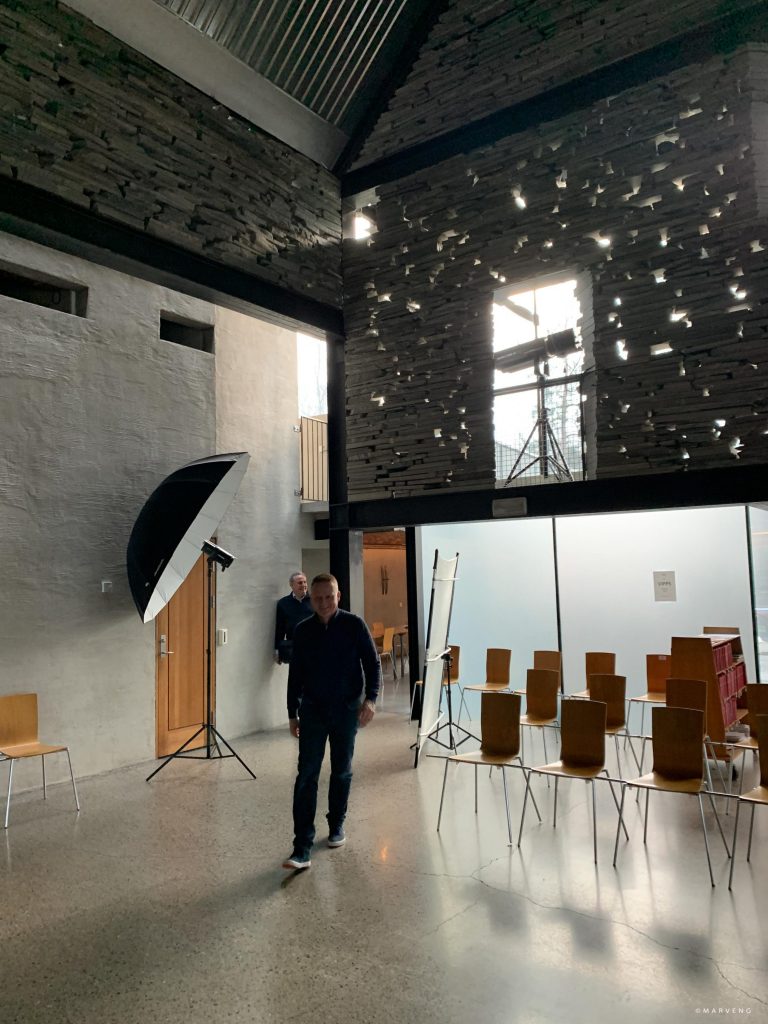 Eivind prepared his equipment, while I hang the new designs on the clothes rail, while Michael was making a Patreon Behind the Scenes Video. When I was done, Eivind and I had a walk around the church to decide which backdrops to use. We chose a couple of the same ones we used last November. Eivind suggested a small change to an old location and I went for three different backdrops. Three and not four since there was little good daylight due to the weather. Michael and Eivind moved the chairs so that we would have enough space to move around at the first backdrop.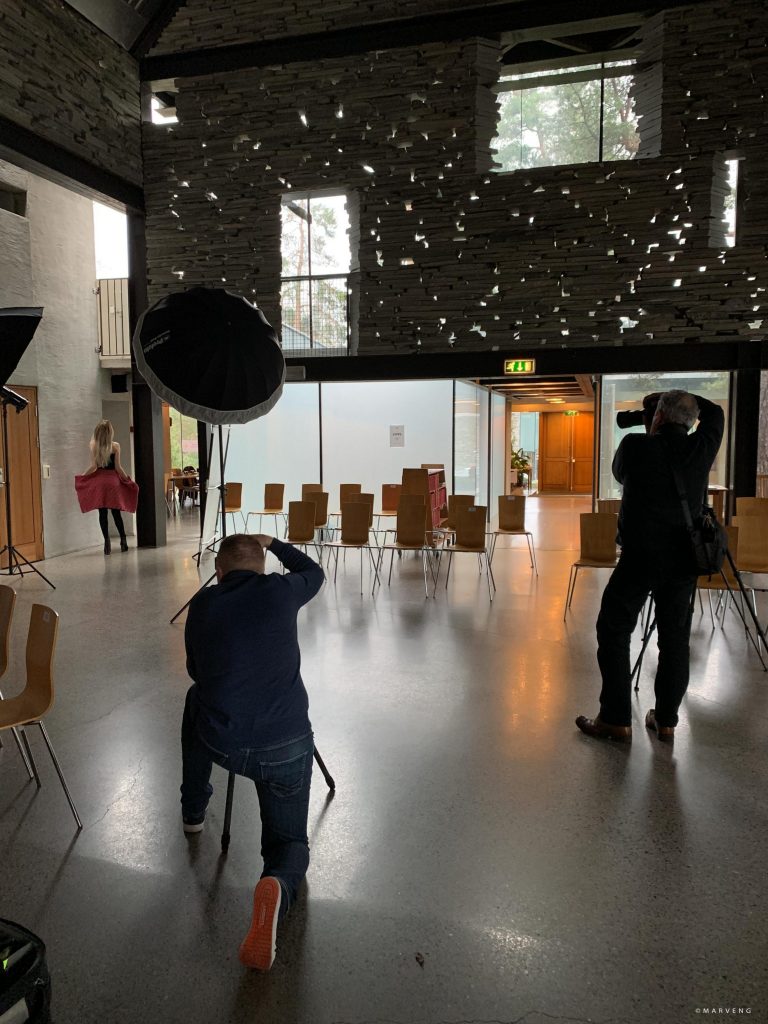 I had eight new designs to be photographed, that I had finished a few days earlier, with a lot of help from sample knitters Grete Jenssen and Airin Hansen. In addition I chose two of my old designs, made for my Norwegian knitting book, "Fletteskjørt"/Cabled Skirt and "Japansk Vest"/Japanese Vest that I wanted new photos of. Four of those new designs are made for Hillesvåg Ullvarefabrikk and I decided to have those photographed first. Above you can see both Eivind and Michael (read: photographer number two) in action, photographing Olivia wearing Kyi; a skirt made for Hillesvåg Ullvarefabrikk. If you wonder, yes, I have taken the top three photos with my mobile phone.
I was wearing my Gyda, knitted in Ask, a pure wool from Hillesvåg Ullvarefabrikk.  When we left home, I was also wearing the lace cowl and the tweed belt that is part of the Gyda Cowl pattern, but since the heating was on in the church I had taken those accessories off. Above you see both Sissel and me adjusting Rym the ballet top that goes with Kyi the skirt on Olivia. Both are knitted in the new yarn called Vidde a mix of 50% Pelt wool and 50% Lambswool with 200 meters/220 yards on each 100 gram skeins using a 4.5 mm/US 7 needle.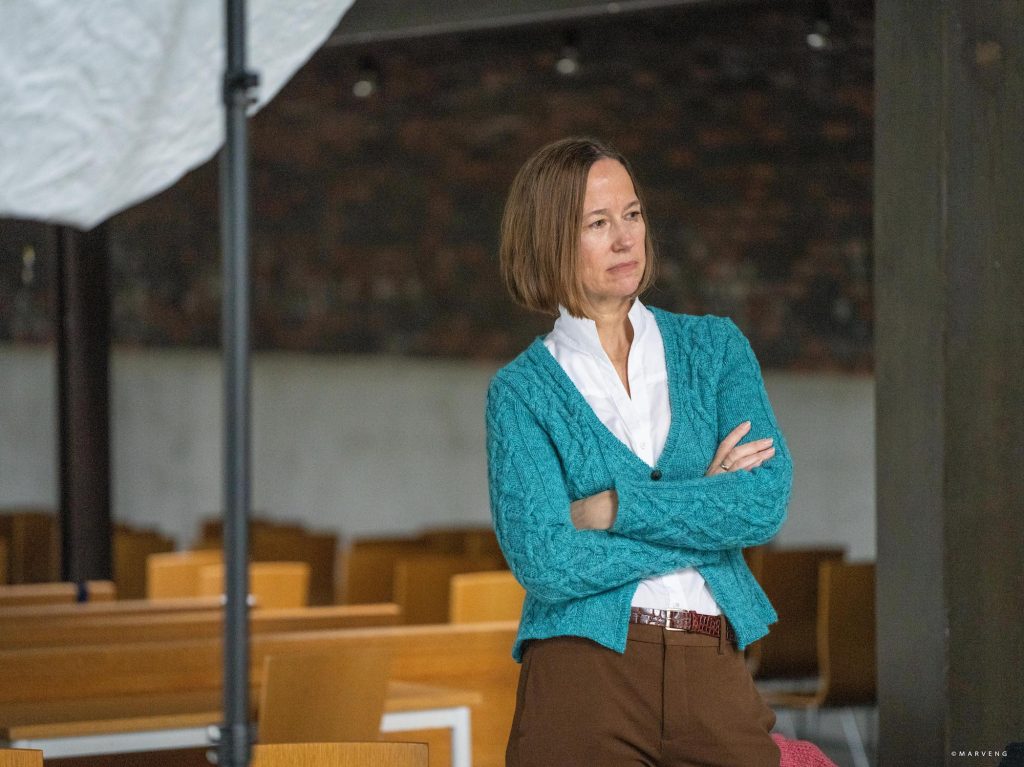 I know I look very sceptical in this photo, but I did not feel it. My mascara is already under my eyes due to all the laughing. Sissel is quicker than me to adjust the clothing as well as the hair & make-up. So often her head ended up in one of Eivind's photos, that we all had to laugh, you get the idea from the previous photo.
I love this photo of Olivia eating cake, she admitted that she always have extra space for cake. Just as last time I had ordered a delicious lunch with juices and smoothies from Eckers Café at Frogner in Oslo city center.
My mum lives at Mortensrud, only 5 minutes away from the church and she wanted to pop in to see us all in action. Sissel took this photo of us, standing in the staircase ready for the fifth design to be photographed just after our lunch. On the hanger is the Seneka skirt and a matching silk scarf I had brought.
Here is exactly what my mum and I could see of Olivia wearing the Cabled Skirt, taken at the very spot. We photographed the Seneka skirt next. I had not figured out how to use the silk scarf, but Sissel instantly knew that it should be in her hair. We both agreed that it softened the outfit and made it absolutely perfect.
Michael had a similar view to me, behind me in the staircase, so above you can see Olivia wearing Senna – cardigan – and Seneka – skirt here worn as a poncho – putting on those high healed shoes. Both are knitted in the divine hand dyed Neighborhood Fiber Co. Organic Studio Worsted yarn.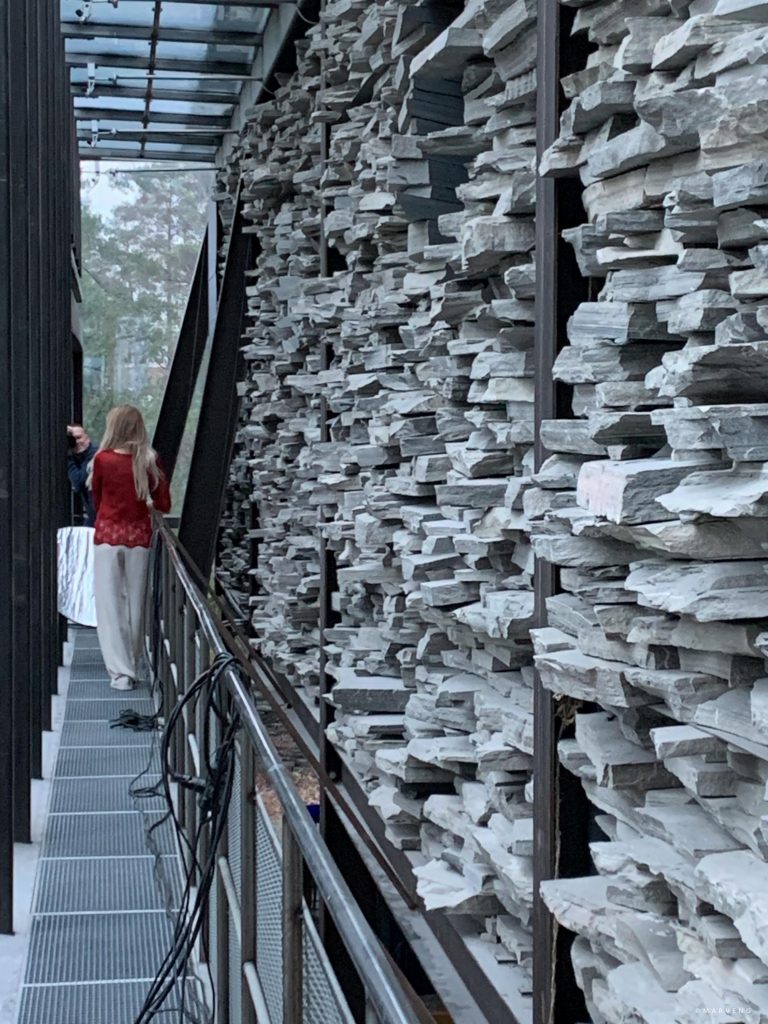 The last photo I will share is the view Sissel and I had of Olivia wearing Kaibara being photographed by Eivind upstairs on the narrow gantry. We were told off by Eivind for not standing straight enough. That meant that we were both in the photo. So we straightened up even further after we had stopped laughing. I had a wonderful day, which I am reliving as I select photos from the pdf that Eivind has sent me. Thank you to my magnificent team!
More photos of all the new designs are available for those of you with a Patreon membership, while some of them will be shown here later on. Michael is doing the last finishes on a Patreon only; Behind the Scenes Video.