I am thrilled to begin to present the wonderful photos Eivind Røhne took of the stunning Alexandria Eissinger/Nordic Model Agency with hair & make up by Jens J. Wiker and gorgeous jewellery by Kaja Gjedebo Design at Ingierstrand Bad at the end of May. First out is Wa, one of four designs; a small collection made for yarn kits in collaboration with Hillesvåg Ullvarefabrikk to be launched at Oslo Design Fair at the end of August. Eivind, Michael and I agreed to photograph this series on the pier by the fjord. It is a fabulous way to enter the restaurant. But unfortunately there are no ferries from Oslo to Ingierstrand Bad any more, so you have to take a fjordtaxi, if you want to arrive by boat that is.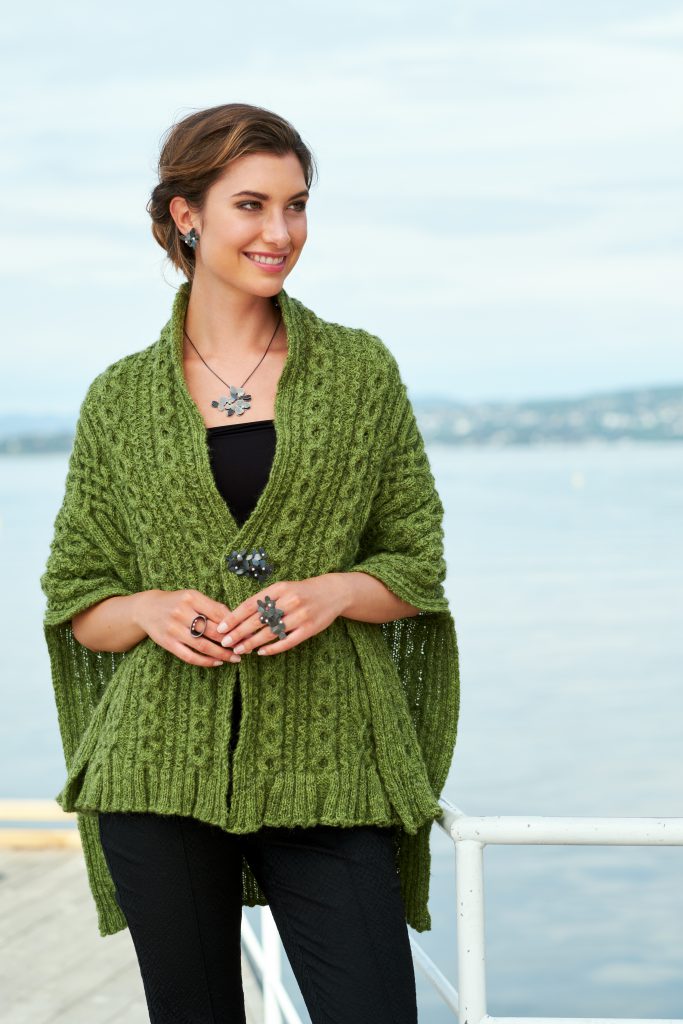 I chose slim black pencil trousers, a tube top and sculptural sandals by Camilla Skovgaard  – yes, I have been bargain hunting secondhand shoes online – to accompany Wa: A shawl turned into a vest with a back piece, named Wa; Eskimo for "here it is". A large Celtic Cable adorns the center with Round cables on each side and small framing cables, on both parts; the shawl and the back piece which is sewn onto main piece at the end. Wear it as a vest, a wrap or a generous shawl around your neck.
Wa is knitted in the luscious Norwegian pelt wool yarn called Tinde Pelsull from Hillesvåg Ullvarefabrikk in the divine shade called Lime 2107. Yes, it is not the first time I have used that colour, it is an addictive shade. I used it in my sweater Mistale. Each 100 gram skein has 260 meters/284 yards and is made of 100% pelt wool. The sample is beautifully knitted by Kristin Nygård, aka Quiltefeen on Ravelry and Instagram, using a 3.5 mm/US 4 circular needle due to the number of stitches.
Above you see it worn pinned together in three different ways with a lovely Abelia brooch in oxidised silver with pearls by Kaja Gjedebo Design. You can also pull it tighter around the neck and make a shawl collar or pin it at the back if you prefer. As always I struggled to pick the best photos, as they were so many too choose from. I asked – read: begged – both photographer Geir Arnesen and previous editor of Made by Me now Marketing Manager at House of Yarn for their help to pick the best. Both of them obliged and gave me their selection, as I was working on picking the final one. Eivind also has to work extra hard as a reward for taking so many brilliant photos.
I try to cover all views of the garment and most ways, if not all, on how to wear it. Here is another version of Wa worn as a shawl, I simply could not resist. I am so thrilled and cannot express how much I love working with this team! This time we were fortunate to have jewellery designer Kaja Gjedebo with us as well. Check out the funny video photographer Eivind Røhne made of Alex pulling faces and me fiddling with the brooch on Instagram) as well as the video Kaja made from the restaurant here.
Here is the side view of the shawl vest, where you see a bit of the wrong side of the back piece. The pattern is in one size with the shawl measuring: 50 cm/19.75″ wide and 156 cm/61.5″ long, and the back piece measuring 60 cm/23.5″ wide and 40 cm/15.75″ long. You can adjust the width by removing or adding cable repeats and/or adjust the number of side stitches in rib.
Finally the full back view. The Norwegian pattern will only be available in the yarn kits to be launched in early September. While the English pattern will be test knitted in my Ravelry group, it is scheduled to start 4th of September and will be released approximately 6 weeks later. Do join us. In the meantime you can look forward to seeing more garments worn by gorgeous model Alexandria Eissinger as well as my two designs made for The Fibre Company. Stay tuned, enjoy the summer and keep knitting!
SaveSave
SaveSave
SaveSave
SaveSave
SaveSave
SaveSave
SaveSave
SaveSave
SaveSave
SaveSaveSaveSave
SaveSave
SaveSave
SaveSave
SaveSave
SaveSave
SaveSave
SaveSave
SaveSave