I knew I wanted to design a garment with these Sweeping Cables as soon as I saw them. I knew it had to be a long garment so they would have some space to unfold across. A vest, but should it be open or not? Not, I decided so it could be used as a summer top too. I tested a few yarns before I was happy with the result of the cable which stretches two stitches across four hence need to be of a filling type like Rowan Alpaca Merino DK – an alpaca, merino and nylon mix – of a chainette construction with a generous 105 meters/115 yards on each 25 g ball. The vest is knitted using a 4.5 mm/US 7 with a gauge of 22 stitches and 30 rows in stockinette stitch. The Norwegian pattern will be published in Familien Strikk in late August while the English pattern will be test knitted in my Ravelry group in mid-July.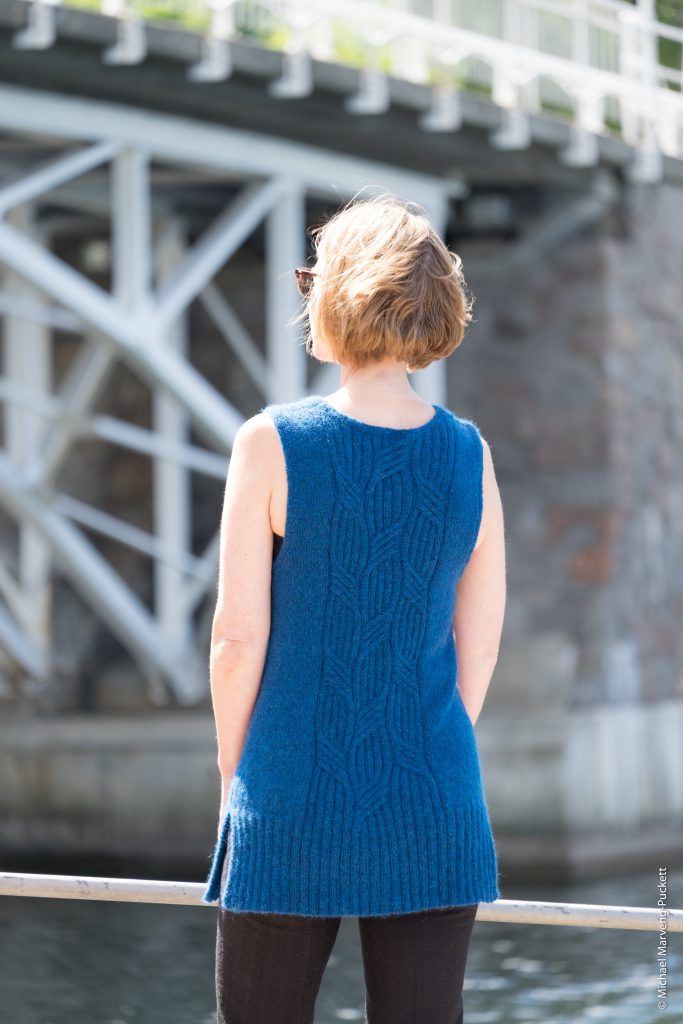 The rib in the cables became the obvious choice for the bottom band and lent itself to making vents in the side. A relaxed fit, hence an a-line shape, makes the vest wearable for any occasion. It was stunningly worn by model Alexandria Eissinger with silk slacks, see my previous post: Villa Malla Sneak Peek. The deep v-neck can be worn on the front or on the back, due to the shoulder shaping. It is framed by an I-cord bind-off which I tried to offset with a few rows of reverse stocking stitch. Due to the fuzzy yarn the contrast did not work as well I had imagined.
The vest is knitted in two parts due to the vents. I named the vest Hel because it means complete in Norwegian and because the Norse Hel ruled over nine worlds. Complete because of the different looks you can create with it, whether you wear the v-neck at the front or at the back and what you prefer to wear under it.
I have graded the vest from size XS to size 2XL. The sample, the only one of the nine new designs we photographed at Villa Malla, I had time to knit since I was knitting samples for Interweave and SweetGeorgia Yarns. All the photos above are taken at Ormøya, down from where we live. Unlike the heat from the photoshoot day these photos were taken in a very cold wind and I would have preferred to have worn all three on top of each other instead of separately. Hel is the fifth new design and the last in the series to be published in Familien Strikk together with the Yellow Gold Pullover. Next up are each of the four designs I have made for Hillesvåg Ullvarefabrikk and their yarn kits to be launched at Oslo Design Fair in early September. To be continued.